Program Overview
Designed for New Traders
Training from Basic
24 Hours of Learning
Access to recorded sessions
Access to Trading Community
System without Indicators
Syllabus
Best-in-class content in the form of videos and theoritical sessions
Days of Detailed Sessions
Mentor
Learn from India's leading Price Action Mentor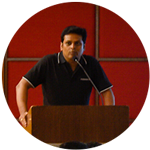 Mr.Ashok Devanampriya
Full Time Trader
Mr. Ashok Devanampriya is the Founder director of Cautilya Capital. He is a seasoned stock market investment professional with a decade of experience in investing and trading. He preaches the concept of Techno Fundamental Analysis of stocks to generate better returns and long term growth in Indian equity markets.
Suresh
- Trader
Ashok, It's been incredible journey till know with price action theory, i am glad & fortunate that I am part of this batch, your teaching is simple, precise & amazing with lot of patience and deliverance on every aspect of it, my sincere and honest reply to everyone would be, Attend and experience this price action theory journey and that too with trainer and menter like Ashok. There will be no regret at all......
Sushmita
- Trader
Ashokji you wanted your students to write a few words about the two modules you have covered and about your teaching. According to e you have exceeded my expectations. Not only are you a superlative teacher, but what I appreciate the most is that you are grounded and accommodating. You are not at all like most teachers who have such superior attitude. I really hope and pray you will always do better and better in all your endeavors,and I assure you as with this class, I will be first to queue up to buy your books when they are published.
Trivikram
- Doctor
Really it's very easy to understand, as a doctor I thought tht its difficult, but how simplified n teach u bro. all sessions are very useful. Thanks a lot
Guru
- Part Time Trader
For me... it is serendipity... lucky coincidence... I didn't know such a program existed... it is one of the most professionally organized program I have ever attended... with wonderful explanation... I feel program has already delievered its value vs. fees
What's Included in the Price
Features / Benefits
Total 24 hours of intensive learning
Access to recordings
Pure price based theory
Zero indicator models
Complex story simplified
Frequently Asked Questions
What Will You Learn?
The art of combining the best in class price action models for the traders edge.
Who is this course for?
Full time and Part time Traders, Traders who are enthuastic to learn
Do you provide recorded video access?
Yes, all the sessions are recorded and the access will be provided for One year.
Why price action is used?
It is one of the superior forms of trading which does not use any indicator. The zero indicator theory analyses the institutional traps and acts accordingly.